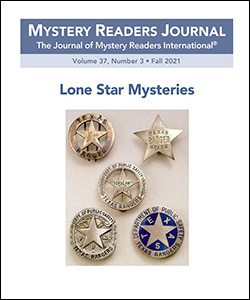 The "Lone Star" issue of
Mystery Readers Journal
has arrived. Among the articles by members of the Society are:
Jim Doherty: "Lone Star Dragnet - Joel McCrea as the Joe Friday of Texas," "Wearing the Cinco Peso Star," and "Frank Hamer, Gus Hachette, and Me."
Elizabeth Elwood: "Two for Texas."
Gay Toltl Kinman: "The Children's Hour."
Sandra Murphy: "Texas, the Perfect Setting."
Josh Pachter: "An Eye of Texas."
Bev Vincent: "Texas: A State of Crime."